Autotests
The aim of Autotests are to negotiate as quickly as possible a memorised, low-speed course without hitting any markers – it is all about car control.
How do Autotests work?
Drivers compete on courses – usually on tarmac or concrete such as car parks – marked out by plastic pylons or cones. They tackle a number of tests, usually with four attempts at each. The driver with the lowest accumulated time is the winner, although penalties are incurred for hitting cones, failing to stop on a line, or for taking the wrong route.
So how do I start?
Autotests are an affordable form of motorsport, with events most weekends all over the country. Club memberships start from £10/year and entry fees from around £30-£50 for a full-day event. You'll need to be at least 16 years old to compete. You will need to join your local club and apply for your free RS Clubman Licence. Then, of course, you will need a car.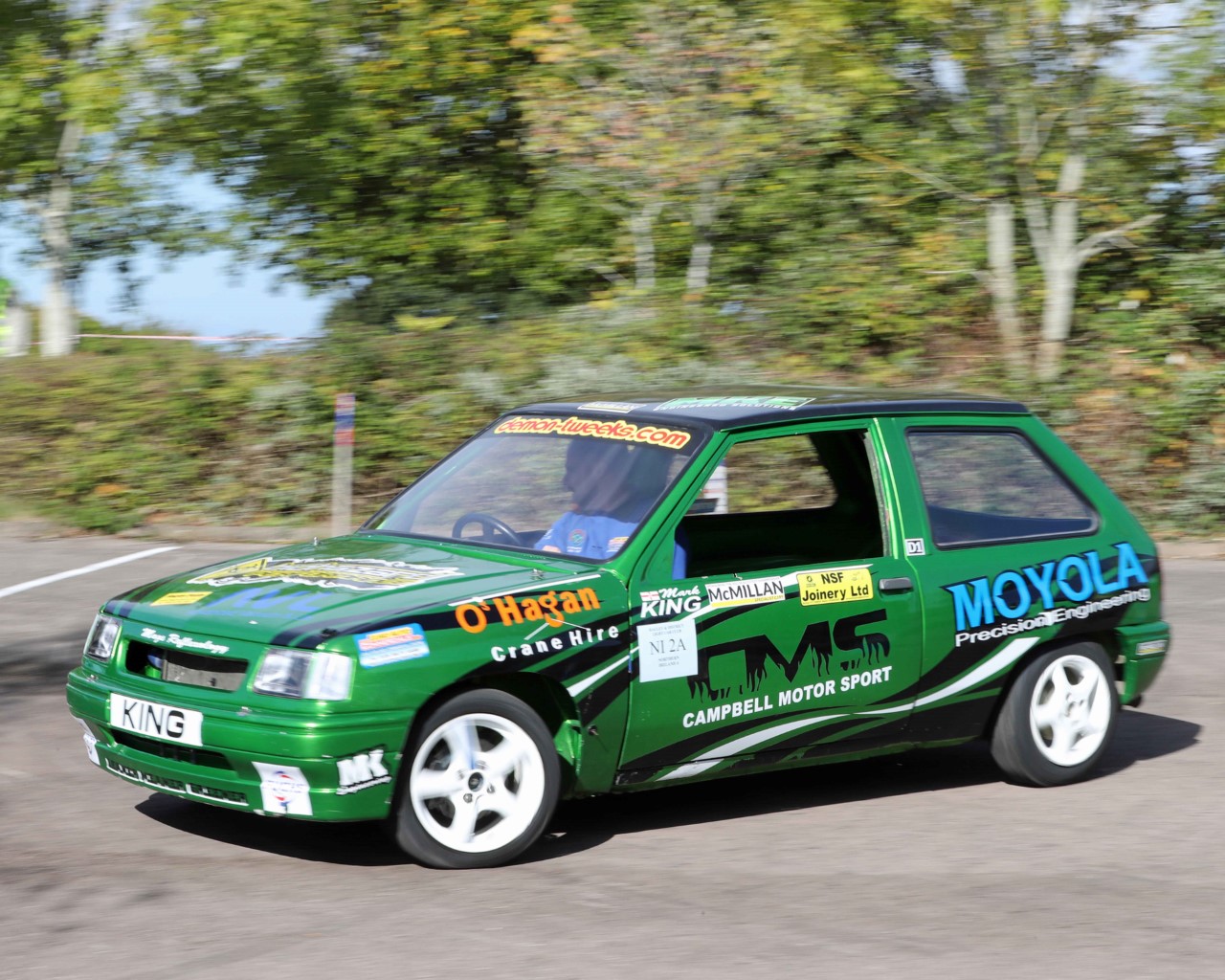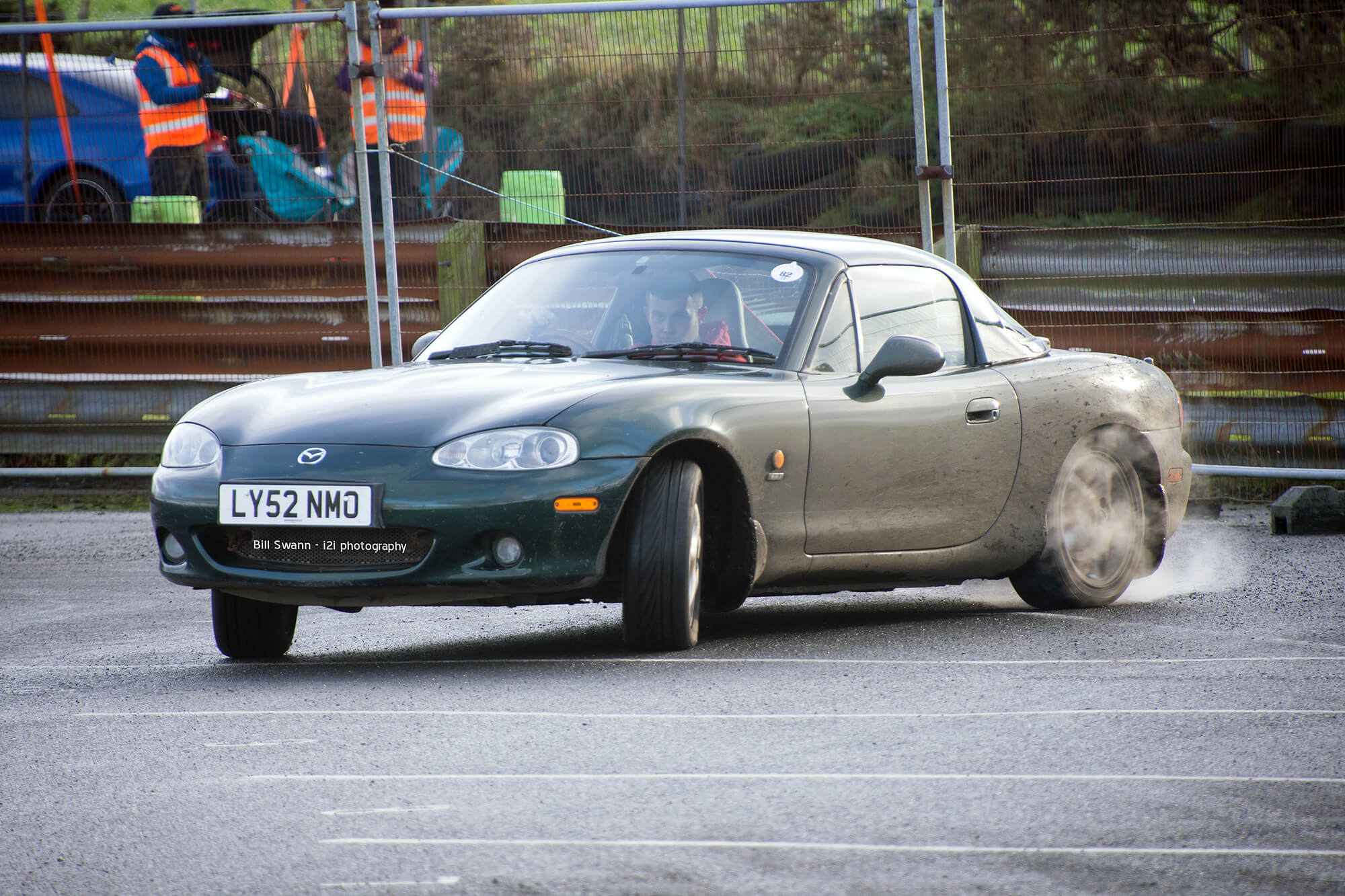 What kind of car do I need?
Most people start off in their road cars; small hatchbacks have proved popular and competitive, but any car can compete in an Autotest.
If Autotests seem a little daunting and you would rather have a go at something simpler to start with, consider AutoSOLOs, which are much the same but don't require any reversing, generally use simpler course layouts and are only open to standard road cars, which must be driven to and from the event.
What equipment do I need?
Because Autotests are low-speed events you don't need special safety gear. Whilst they may be low speed, they are still highly competitive and leave thousands of competitors all over the country smiling.
Tyre wear is likely to be experienced on an autotest (particularly a tarmac event) and therefore it is highly recommended to take a spare set of wheels and tyres with you to ensure you can drive home legally afterwards.
Where can I find technical regulations for Autotests?
Technical regulations Autotests are found in section M of the Motorsport UK Yearbook.
Our Championship and Clubman Challenge regulations can be found below.
What protective equipment do I need to wear?
There are no personal protective equipment requirements for Autotests.
Contact Us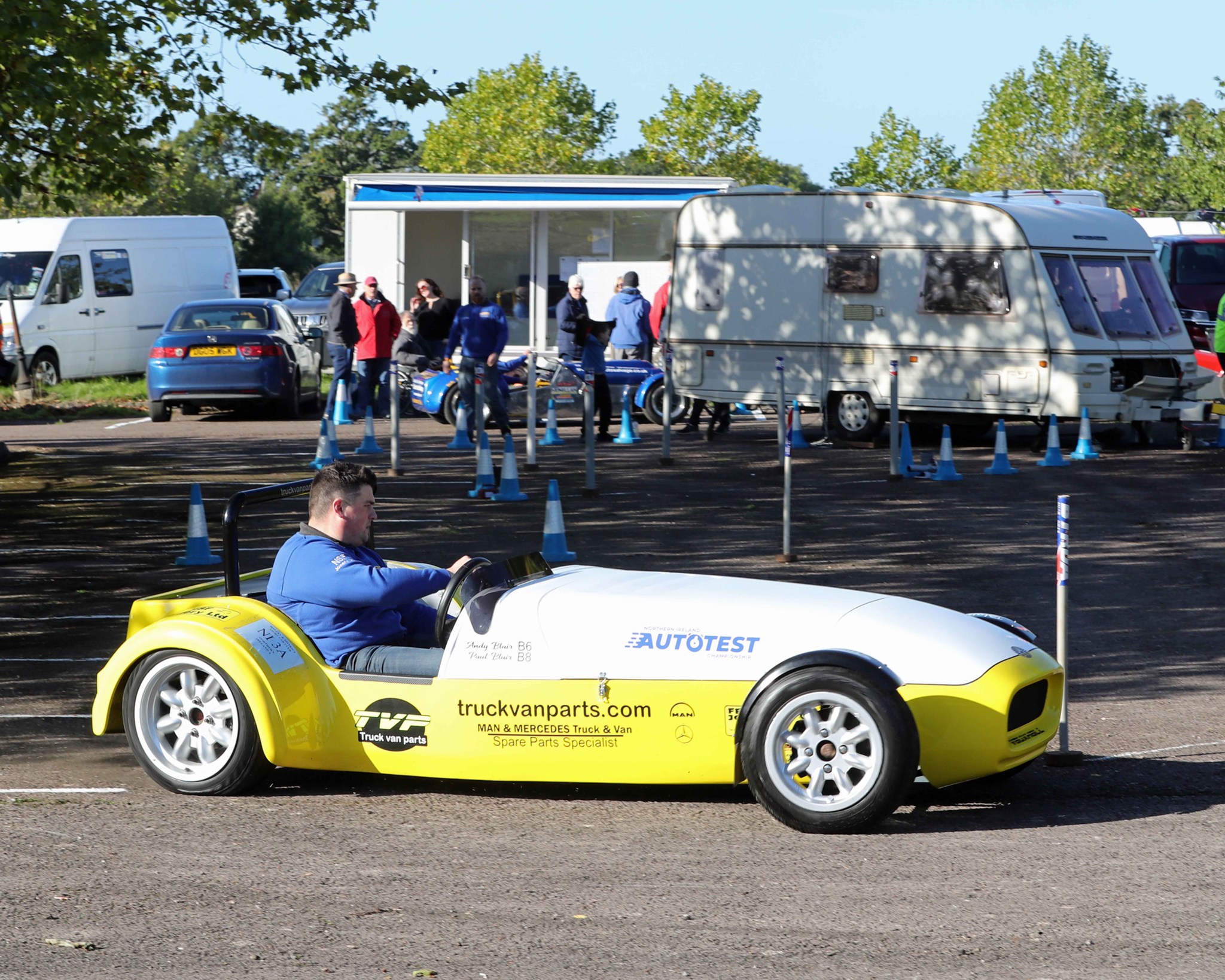 2024 Championship Dates
02nd March – Autotest Drivers' Club
23rd March – Ulster Automobile Club
13th April – Larne Motor Club
27th April – Thoroughbred Sports Car Club
25th May – Enniskillen Motor Club
08th June – Omagh Motor Club
29th June – Coleraine & District Motor Club
03rd August – Dungannon Motor Club
24th August – Coleraine & District Motor Club
21st September – Autotest Drivers' Club
RESERVE CHAMPIONSHIP EVENT
07th September – TBC
CHAMPIONSHIP ROLE OF HONOUR
Autotest Champion
| | | | | | |
| --- | --- | --- | --- | --- | --- |
| 1966 | LEE LUCAS & ADRIAN BOYD | 1985 | SAM BOWDEN | 2004 | EDDIE PETERSON |
| 1967 | HAROLD HAGAN | 1986 | ROBERT DICKSON | 2005 | EAMONN BYRNE |
| 1968 | ROGER CREE | 1987 | ROBERT DICKSON | 2006 | PETER GRIMES |
| 1969 | ROBERT WOODSIDE | 1988 | ROBERT DICKSON | 2007 | PETER GRIMES |
| 1970 | HAROLD HAGAN | 1989 | STEPHEN REANEY | 2008 | PETER GRIMES |
| 1971 | HAROLD HAGAN & KEN IRWIN | 1990 | SAM BOWDEN | 2009 | PETER GRIMES |
| 1972 | ROBERT WOODSIDE | 1991 | SAM BOWDEN | 2010 | STEVEN FERGUSON |
| 1973 | DERMOT CARNEGIE | 1992 | SAM BOWDEN | 2011 | STEVEN FERGUSON |
| 1974 | JOHN LYONS | 1993 | SAM BOWDEN | 2012 | STEVEN FERGUSON |
| 1975 | KEN IRWIN & JOHN LYONS | 1994 | EAMONN BYRNE | 2013 | STEVEN FERGUSON |
| 1976 | KEN IRWIN | 1995 | SAM BOWDEN | 2014 | PETER GRIMES |
| 1977 | KEN IRWIN | 1996 | SAM BOWDEN | 2015 | PAUL BLAIR |
| 1978 | WILLIAM RUTHERFORD | 1997 | PETER GRIMES | 2016 | PAUL MOONEY |
| 1979 | WILLIAM RUTHERFORD | 1998 | SAM BOWDEN | 2017 | PAUL MOONEY |
| 1980 | KEN IRWIN | 1999 | EAMONN BYRNE | 2018 | STEVEN FERGUSON |
| 1981 | ROBERT DICKSON | 2000 | SAM BOWDEN | 2019 | STEVEN FERGUSON |
| 1982 | ROBERT DICKSON | 2001 | J J FARRELL | 2020 | NOT PRESENTED |
| 1983 | KEN IRWIN | 2002 | EAMONN BYRNE | 2021 | STEVEN FERGUSON |
| 1984 | WILLIAM RUTHERFORD | 2003 | GLENN IRWIN | 2022 | STEVEN FERGUSON |
Large Saloon Champion
| | | | | | |
| --- | --- | --- | --- | --- | --- |
| 1971 | KEN SHIELDS | 1989 | FRANK LENEHAN | 2007 | JAMES PRINGLE |
| 1972 | KEN SHIELDS & ALBERT LUCAS | 1990 | FRANK LENEHAN | 2008 | DAVID BOYCE |
| 1973 | KEN SHIELDS | 1991 | FRANK LENEHAN | 2009 | DAVID THOMPSON |
| 1974 | KEN IRWIN | 1992 | FRANK LENEHAN | 2010 | DAVID THOMPSON |
| 1975 | KEN SHIELDS | 1993 | ERIC PATTERSON | 2011 | DAVID THOMPSON |
| 1976 | KEN SHIELDS | 1994 | FRANK LENEHAN | 2012 | MARK KING |
| 1977 | FRANK LENEHAN | 1995 | FRANK LENEHAN | 2013 | DAVID THOMPSON |
| 1978 | RON MULLAN | 1996 | FRANK LENEHAN | 2014 | MARK KING |
| 1979 | RON MULLAN | 1997 | SAM BOWDEN | 2015 | PAUL MOONEY |
| 1980 | NOEL COCHRANE | 1998 | RAYMOND DONALDSON | 2016 | DAVID THOMPSON |
| 1981 | KEN IRWIN | 1999 | ERIC PATTERSON | 2017 | MARK KING |
| 1982 | KEN SHIELDS | 2000 | PAUL BLAIR | 2018 | DAVID THOMPSON |
| 1983 | HAROLD HASSARD | 2001 | RAYMOND DONALDSON | 2019 | DAVID THOMPSON |
| 1984 | COLIN EARNEY | 2002 | ERIC PATTERSON | 2020 | NOT PRESENTED |
| 1985 | COLIN EARNEY | 2003 | RAYMOND DONALDSON | 2021 | MARK KING |
| 1986 | COLIN EARNEY | 2004 | RAYMOND DONALDSON | 2022 | DAVID THOMPSON |
| 1987 | COLIN EARNEY | 2005 | RAYMOND DONALDSON | | |
| 1988 | FRANK LENEHAN | 2006 | RAYMOND DONALDSON | | |
Semi-Expert Champion
| | | | | | |
| --- | --- | --- | --- | --- | --- |
| 2007 | MARC JOHNSTON | 2013 | GARETH DILLON | 2019 | NOT PRESENTED |
| 2008 | DANIEL BYRNE | 2014 | ANDREW BLAIR | 2020 | NOT PRESENTED |
| 2009 | STEPHEN GALBRAITH | 2015 | NOT PRESENTED | 2021 | DAMIEN MOONEY |
| 2010 | GUY FOSTER | 2016 | JAMES MANSFIELD | 2022 | GARY CAMPBELL |
| 2011 | PAUL MOONEY | 2017 | NOT PRESENTED | | |
| 2012 | RICHARD ALLEN | 2018 | NOT PRESENTED | | |
Beginners Champion
| | | | | | |
| --- | --- | --- | --- | --- | --- |
| 1979 | GODFREY CRAWFORD | 1994 | ALAN WATSON | 2009 | ALAN HYDE |
| 1980 | MERVYN BUCHANAN | 1995 | ROGER GORDON | 2010 | PAUL MOONEY |
| 1981 | TREVOR SEMPLE | 1996 | GLENN PATTERSON | 2011 | JAMIE McMILLAN |
| 1982 | DANNY LYNCH | 1997 | SAM JOHNSTON | 2012 | MIKE ADAIR |
| 1983 | PADDY GILLESPIE | 1998 | BRIAN HOUSTON | 2013 | ANDREW BLAIR |
| 1984 | RAYMOND POLLOCK | 1999 | STEVEN FERGUSON | 2014 | PAUL WOODSIDE |
| 1985 | TOMMY KEYES | 2000 | JONATHAN McDAID | 2015 | ANDREW EARNEY |
| 1986 | DAVID REANEY | 2001 | TREVOR FERGUSON | 2016 | NOT PRESENTED |
| 1987 | NIGEL SCOTT | 2002 | MELVIN MARSHALL | 2017 | NOT PRESENTED |
| 1988 | ROBERT HAZELTON | 2003 | RICHARD EARNEY | 2018 | NOT PRESENTED |
| 1989 | FERGAL SHAW | 2004 | BARRY McCABE | 2019 | NOT PRESENTED |
| 1990 | DAVID McCORD | 2005 | DAVID THOMPSON | 2020 | NOT PRESENTED |
| 1991 | ALISTAIR CRAIG | 2006 | MARC JOHNSTON | 2021 | NOT PRESENTED |
| 1992 | TIM MULLAN | 2007 | PAUL McCARTAN | 2022 | NOT PRESENTED |
| 1993 | MILTON McWILLIAMS | 2008 | MARK KING | | |